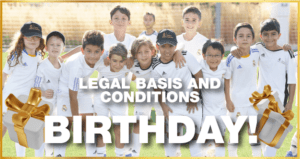 We have a new promotion at Campus Experience Fundación Real Madrid to celebrate your BIRTHDAY!
Do you want to know how to benefit from this promotion? Keep reading!
1. PROMOTION.
The promoter and responsible for the personal data file of the present Promotion is the Campus and Sports Events S.A. team with CIF A-86756988, domiciled in Calle Guzmán el Bueno, 100, 28003, Madrid.
All natural persons over 16 years of age, or persons over 18 years of age representing minors, may participate.
The simple participation in this Promotion implies the acceptance of the present conditions, so the manifestation in the sense of not accepting all or part of them implies the exclusion of the participant and as a consequence, Campus Experience Fundación Real Madrid will be released from the fulfilment of any obligation with respect to said participant.
Neither Instagram nor Twitter nor Facebook sponsor, endorse or administer this promotion, nor are they associated with them.
2. DATES AND DURATION OF THE PROMOTION.
The BIRTHDAY promotion is valid for 15 days for registration and payment of at least 30% of the amount from the time of receipt of the email.
3. FORMALISATION OF THE PROMOTION AND RESERVATION OF PLACE.
To participate and benefit from the promotion, users must formalize their registration to Campus Experience in our system (see point 4, programmes applicable to the promotion) by applying the code "CUMPLEAÑOS" and make the payment of at least 30% of the amount to the account indicated at the time of registration and within the established deadlines.
If after 5 working days from the end of the promotion the payment of the place reservation (minimum 30% of the total registration fee) has not been made by credit or debit card through our payment gateway, it will be understood that the user does not accept the present conditions and will immediately lose any right acquired from the present promotion.
*This promotion cannot be combined with other existing promotions or discounts.
4. PROGRAMMES APPLICABLE TO THE PROMOTION
This Promotion is applicable upon completion of enrolment in any of our programmes (except part-time programmes) for the edition starting in June 2023.
5. DISCOUNT
The promotion offered by Campus Experience is a 10% discount for each user as long as the indicated deadline is respected, the application of the promotion code and the payment of at least 30% of the amount at the moment of registration.
Those participants who register by applying the code "BIRTHDAY" respecting the indicated deadlines and the conditions of the promotion will get the discount.
6. ADDITIONAL INFORMATION
In case of any doubt or if any clarification or additional information is required, the recipients of the Promotion may contact Campus Experience Fundación Real Madrid through its Customer Service Department, by e-mail at inscripcion@campusexperiencermf.com or by telephone on +34 912 775 988.