*15/06/20 This protocol may be amended to bring it into line with the regulations in force at any given time.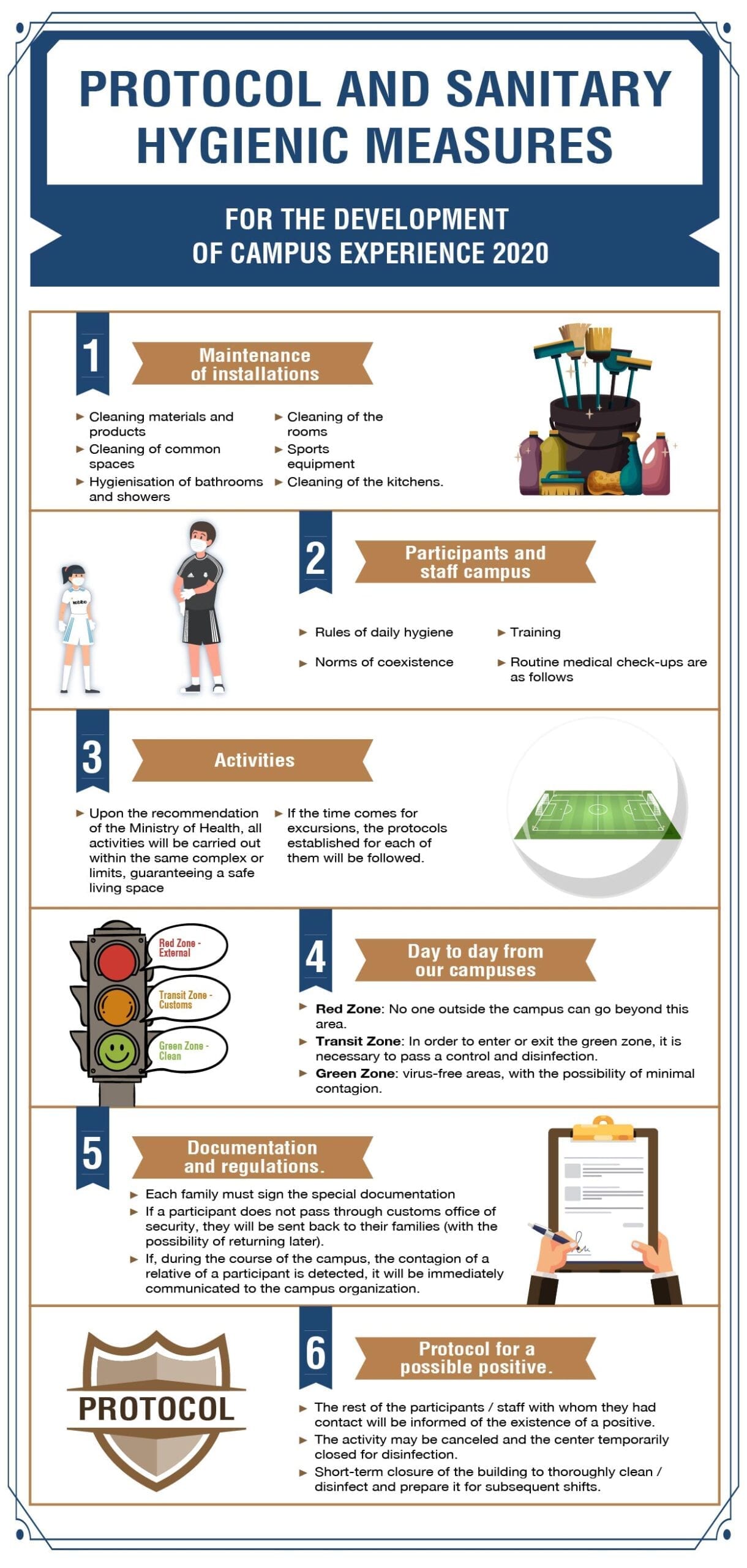 Maintenance of installations:

Cleaning products recommended by the health authorities and according to the safety data sheets shall be used when cleaning the installations, respecting their dosage.
Cleaning materials and products:

Latex or nitrile gloves.

Masks according to regulations.

Bleach/ethanol.

Soap.

Pedal bins and garbage bags.

Automatic soap dispenser.

Paper dispenser.

Cleaning of common spaces:

Disinfectant gel and hand paper dispensers will be located.

Daily cleaning of spaces, with emphasis on knobs, railings and surfaces.

Increase the frequency of daily ventilation of enclosed spaces.

Free use of water sources shall not be permitted, the use of the source shall be monitored by the monitor in accordance with the hygiene and disinfection measures indicated.

Hygienisation of bathrooms and showers.

Locate soap dispensers and hand paper.

Double the daily hygienisation of toilets with emphasis on common and/or more active areas.

Showers:

External Campuses:

In turn, avoiding agglomerations and respecting the corresponding sanitary measures.

Hygienisation before and after use of showers.

Campus inmates:

Single shower in the participant's room.

Cleaning of the rooms.

Unique and exclusive access for each participant.

Increase the daily ventilation frequency of the rooms.

The bed linen offered will be washed at 60ºC with own equipment or authorized companies following the temperature protocols.

The room is delivered clean and disinfected, after each shift the hygienisation of the same is carried out complying with all the indicated sanitation protocols.

The rooms will be for single use with private bathroom.

Sports equipment:

Disinfection of material before use in all campus modalities and in shift/group changes.

Aqueous materials shall be avoided.

There will be no activities that involve sharing food, or holding objects with your mouth or the like.
Cleaning of the kitchens.
Kitchens and their attached facilities should follow their established HACCP (Hazard Analysis and Critical Control Points).

In the dining rooms, the entrances will be in turn, with entrance area and exit area.

The food will be served in a single tray on the table, with school trays for less handling, it will be served by the kitchen staff in compliance with the protection measures indicated.

Wrapped cutlery and napkins.

Self-service will be avoided and a closed menu adapted to each participant's allergies, intolerances and special diets is offered.
2. Participants and staff campus: As a common rule, the recommendations of the Ministry of Health will be followed in order to avoid contagion among the participants.
Rules of daily hygiene:

Hand disinfection in and out of common spaces.

Promote correct hygiene habits through dynamics and activities (daily change of clothes, hand washing, oral hygiene).

Norms of coexistence:

Exclusive training footwear, activities footwear and footwear exclusive to the rooms (e.g., football boots, sneakers and flip-flops).

Forbidden to share canteens, backpacks, food.

Activities of many participants, i.e., large activities involving several groups, will be avoided.

Stable cohabitation groups of 15 participants. With few exceptions, they will not join other groups in activities. Each stable group will have a monitor assigned to it who will only interact with that group.
Coaches / Specialized monitors: The coaches and some other specialized monitors will work with participants from different groups.
– This staff will maintain a minimum distance of 2 meters and in case they cannot maintain it, they will limit the contact with the participants.
– All staff, in addition to passing serological tests, will wear their mask whenever they have contact with the participants.

Training:

Training will be carried out for the entire staff to explain all the protocols in force at that time, each type of worker will know in a comprehensive way their area and all their actions. All workers will be equipped with Epis (Personal Protective Equipment), following the established protocol.

For all participants before the start of the campus, the coordinator together with the monitors and their groups (in shifts) will give a training to all participants with special emphasis on individual/social responsibility and hygiene and coexistence rules. This training will be a cross-cutting part of the campus training program, with daily time spent through activities.

Routine medical check-ups are as follows:

Temperature intake morning and afternoon.

Daily registration of each participant and staff member.

Medical care service.

Responsible for protocol monitoring and evaluation. Within each campus there will be a team responsible for the implementation of the 100% protocol.
3. Activities:
As far as possible, activities will be adapted to reduce physical contact between participants, as well as hand/face or hand/material contact.
During the trainings and the Experience Activities it will not be necessary for participants to wear masks.
The activities will be restricted to the components of each of their groups, except for certain circumstances in which, due to their number and age, the participants may join another group for matches or tournaments.
There will be three hand cleanings during the activities: before starting, in the middle and at the end. In addition, at any time when there is a situation of unexpected contact or contagion, the hands will also be cleaned.
The material should be disinfected with sprayed solutions before and after use.
For the exits of the campus, the protocols established for each one of them will be followed.
– Swimming pools
– Tour of the Bernabeu.
– Visit to Madrid.
4. Day to day from our campuses:
Check In.
Whether it is an External Campus (every day) or Internal Campus (the first day), to enter the campus the participant must pass the transit or customs area, similar to the one shown in the following video on our Health Protocol:
Taking the participant's temperature.
Disinfection of shoe soles with mats.
Delivery of mask, disinfection of hands with hydroalcoholic gel.
At the check-in of the city Real Madrid Valdebebas the arrival and departure will be staggered in temporary spaces of 10 minutes to avoid crowding.
We will give two masks daily to participants. One at the beginning of the day and another during the day.
Open space seating: Our campus is open space 80% of the time. We enjoy very large and spacious facilities where we can safely develop the campus.
Ciudad Real Madrid Valdebebas: Within the million square meters that Ciudad Real Madrid Valdebebas has, the Campus Experience will use 4 artificial soccer fields of 105m x 68m each. Only two groups of 15 players will train on each field, with each group having more than 3,500 square meters for training. In addition, there are activity areas and bleachers with enough shade to provide a safe campus
Universidad Europea de Madrid: In the student residence, annexed to the sports complex, it has large areas of grass, shade and recreation. There is also an 11-a-side football pitch that allows you to practice without having to take a bus.
Cantoblanco University swimming pool / Villaviciosa de Odón swimming pools: Campus Experience participants will have an independent entrance to the rest of the users, as well as a separate space. Participants will not use the swimming pool's changing rooms, they will be changed from their own sports facilities. All the safety protocols of the pool will be followed in terms of capacity and safety distance both inside and outside the water.
Seating in closed spaces: Only 20% of the campus time will be spent in closed spaces. In them we will always have the mask except the time of the food and the shower. We will apply these specific measures
Dining rooms: We reduce the capacity by 75% while maintaining the safety distance.
Changing rooms: The locker rooms are large enough to maintain the safety distance in the change zone. We reduce the capacity in the shower area by allowing only 5 participants to shower simultaneously.
Training Classrooms: We reduce the capacity by 75% maintaining the safety distance between participants.
Bus routes: When getting on and off the bus, each participant will pass a small customs office to disinfect hands, face, and shoes. Before and after each use, handlebars, grips and areas susceptible to contact will be disinfected.
Documentation and regulations.                                                    Qualitative Serological Tests                                                                          All participants must pass a quick test at no extra cost, carried out by EUROFINS MEGALAB, a company with more than 30 years of experience in the health sector and a long history as a national leader in providing clinical analysis services, pathological anatomy and genetics. Eurofins Megalab undertakes to supervise under medical direction the prescription, treatment, chain of custody and the result of the test performed.The rapid test consists of a rapid qualitative serological test by means of a micro blood test performed by healthcare personnel, which yields a result in only 10/15 minutes. It will be carried out on the first day of activity at Campus Experience.
Protocol for a possible positive.
A positive will be reported to the other participants with whom you had contact with your group and staff involved in the organization.

Following the instructions of the health authority, the activity may be cancelled and the centre temporarily closed for disinfection. A protocol to this effect, approved by the competent authority, is drawn up which takes into account the consequences of this decision within the legal framework in force.

Short-term building closure to thoroughly clean/disinfect and prepare for next shifts.